Delivering Solutions, Enlivening Innovation
Founded in 1994 as a small start-up company and abiding staunchly by its Vision — a Greater HSL for a Better World — HSL has grown rapidly over two decades and is recognised as a frontrunner in the regional foreshore marine civil engineering sector. At HSL, we strive to deliver engineering solutions, while enlivening the spirit of innovation.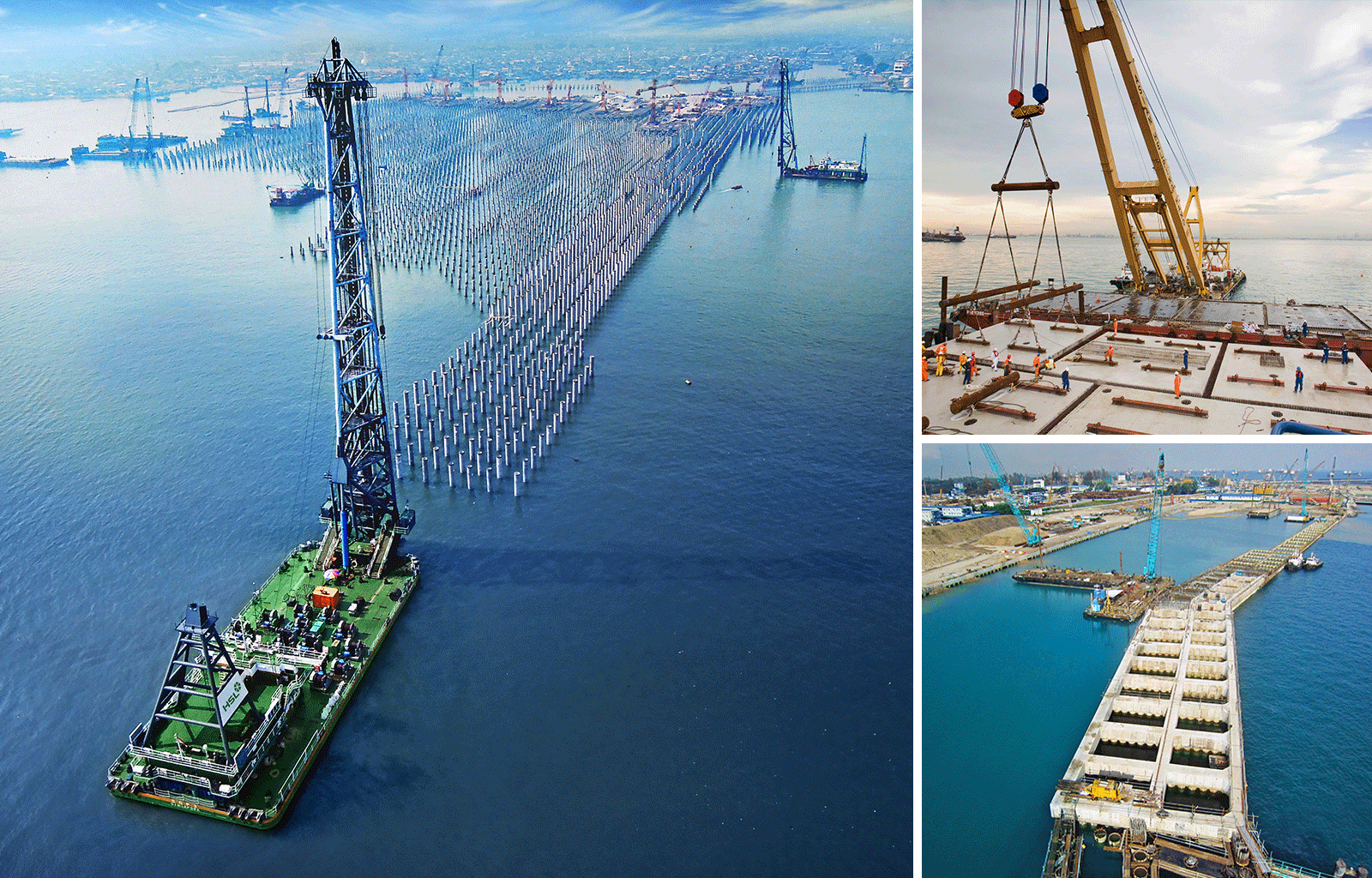 Marine Civil Engineering
HSL's forte is the delivery of marine civil engineering projects with a high level of technical finesse. With well-established construction capabilities, coupled with valued engineering experience, HSL's engineers and project management teams are constantly producing smart creative solutions and innovative designs to meet new challenges in the marine foreshore environment.
Wharves & Jetties | RORO Ramps | Cofferdams | Seawater Intake & Outfall Stations | Demolition | Dredging
Plant Construction & Engineering
Building on its engineering expertise and experience, HSL has progressively expanded into related areas of business including plant construction and engineering. Over the years, HSL has provided a wide range of plant-related construction and maintenance services, including cooling water intake and outfall stations, pipe rack structures, and above-ground storage tank foundations.
Jetty Topside | Pipe Rack | Steel Structures | Large Foundations | Deep Excavation | Substation | Control Room | Administration Building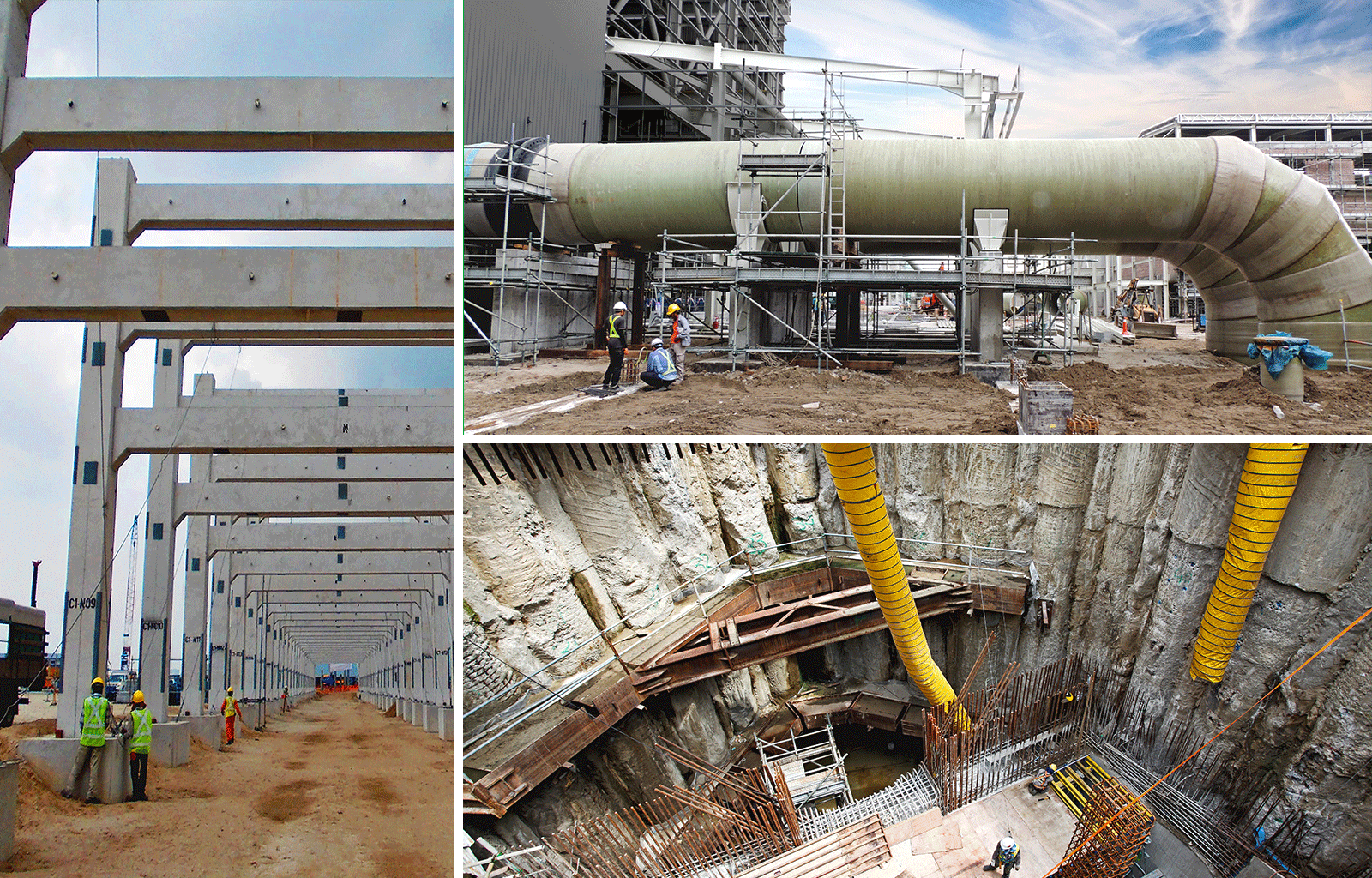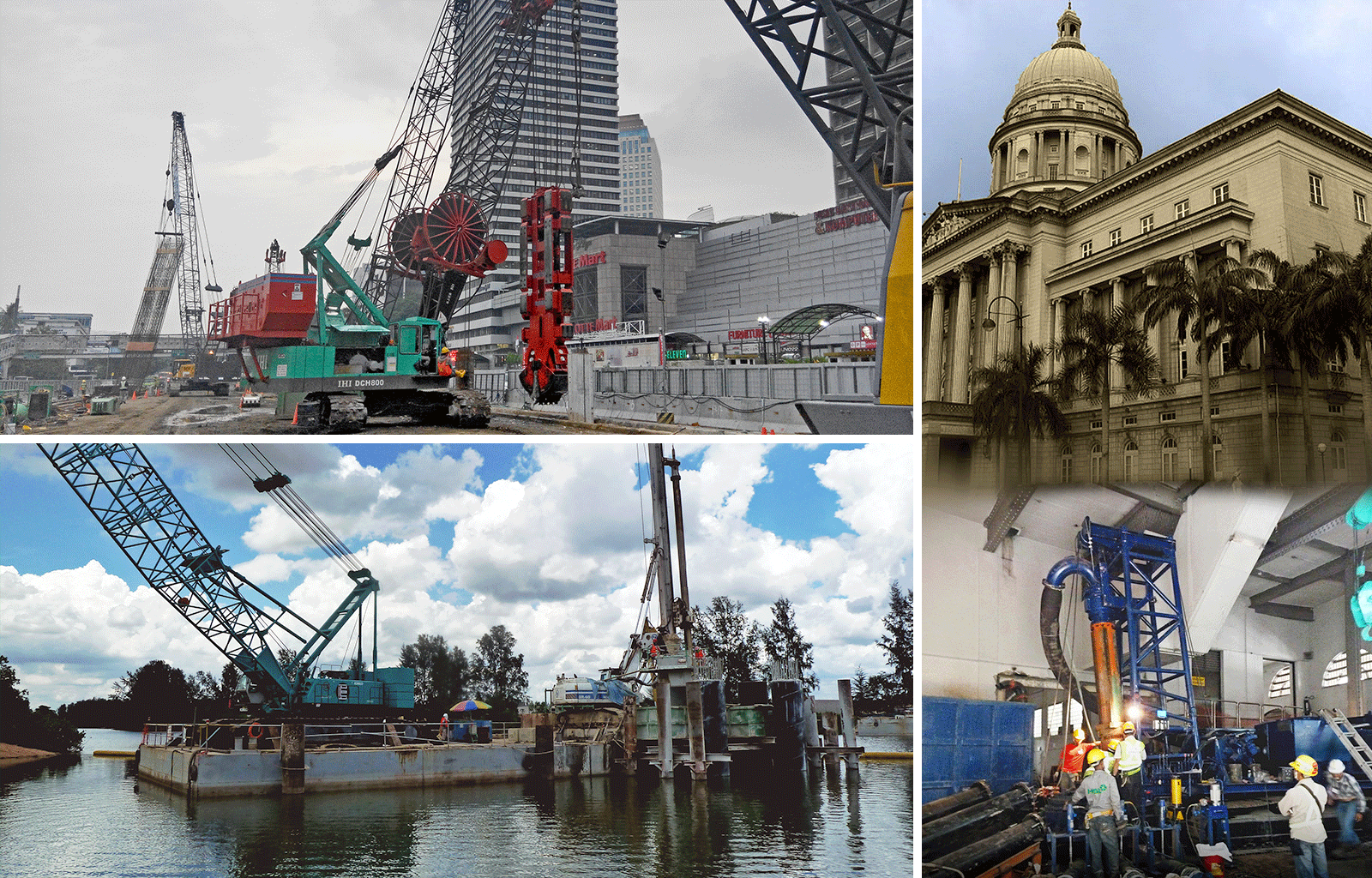 Ground Engineering
HSL Ground Engineering provides innovative solutions to the very challenging geotechnical issues as construction increasingly takes place on varied and unstable terrains.
Bored Piles | Micro Piles | Soil Improvement Jet Grouting | Diaphragm & Slurry Walls | Contiguous Bored Pile Wall
Marine Vessels & Equipment
We have a wide fleet of Marine Vessels & Equipment, including Anchor Handling tugs, Dredges, Hoppers and Barges, as well as one of Southeast Asia's tallest piling barge — SGP-3, capable of handling spun piles up to 1800mm in diameter and steel piles up to 3000mm in diameter.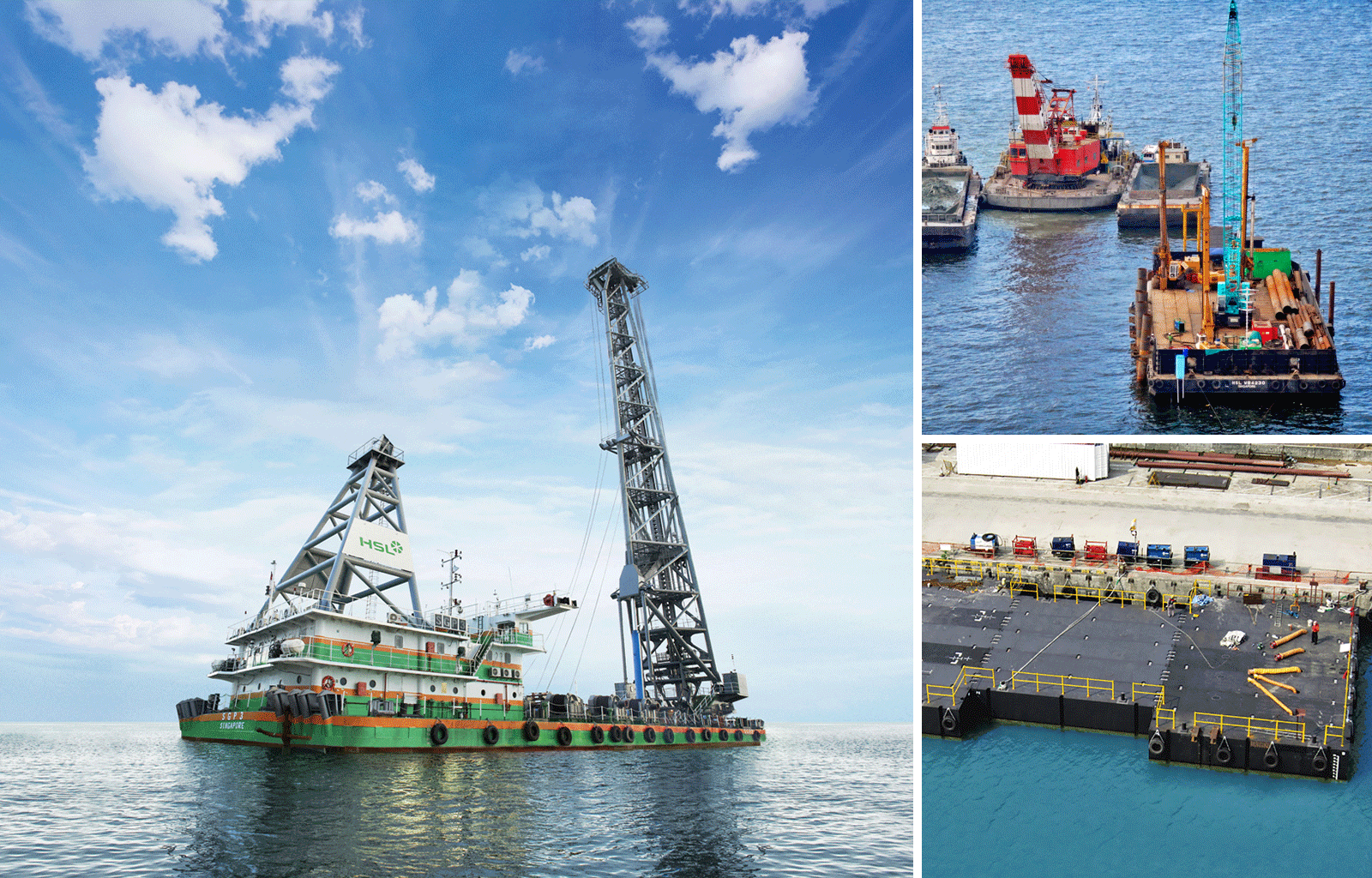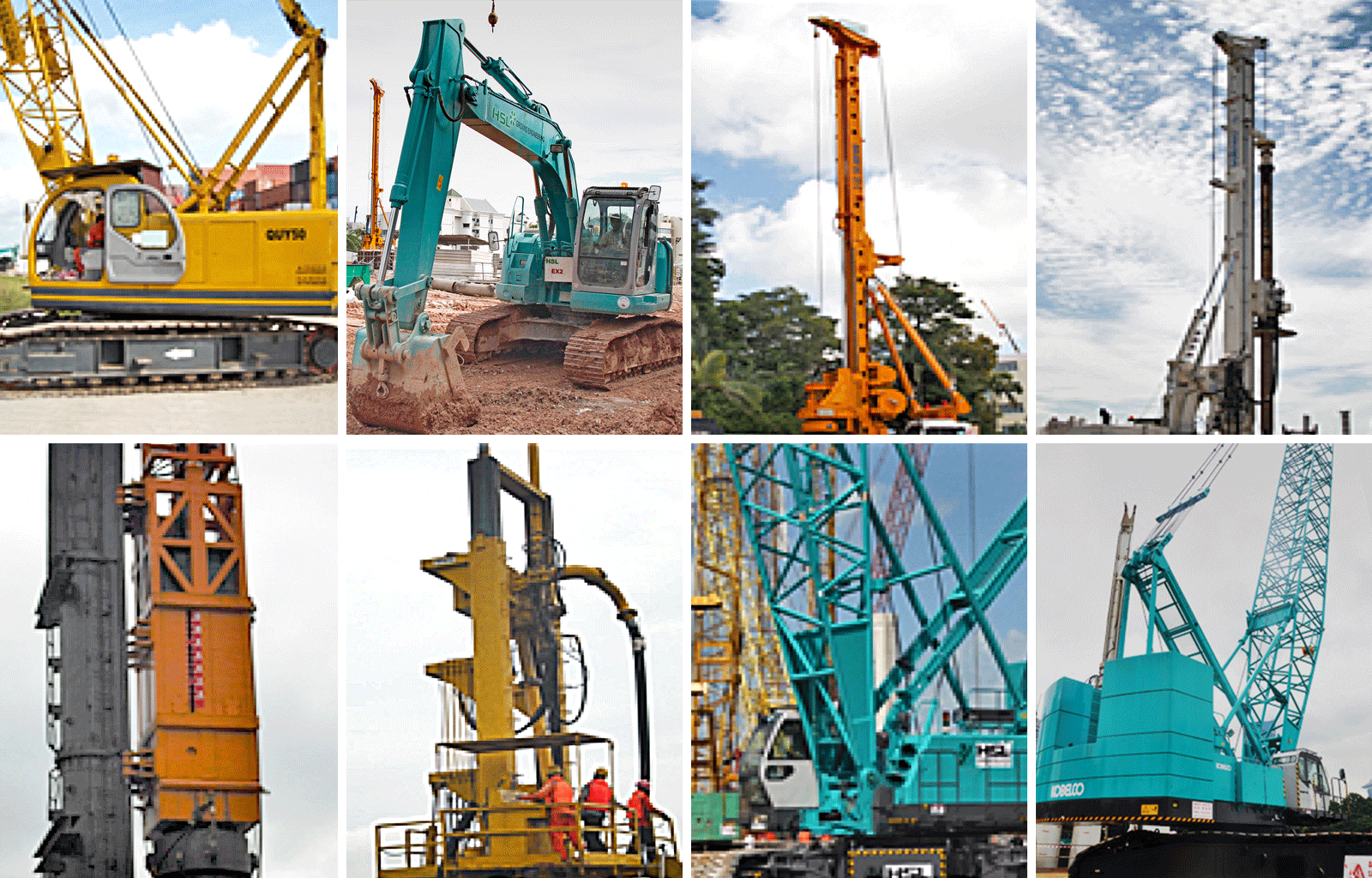 Land Construction & Equipment
From Excavators to Cranes, with lifting capacities ranging from 50 to 250 tons, we can provide the support you need for your equipment-intensive land projects.
Foundation Equipment
We carry more than 5 units of Reverse Circulation Drilling (RCD) rigs, and a vast range of foundation equipment, such as Vibrating Hammers, Boring Machines for your ground engineering needs.